States spending cuts risk to Battle of Flowers funding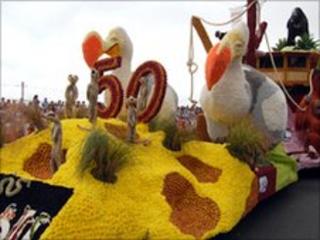 Jersey's Battle of Flowers will have to become more commercial in the future, a government minister has warned.
Economic Development Minister Alan Maclean said as the States cuts spending, events like the Battle are likely to get less financial support.
He has suggested that private sponsoring for parade floats could be an option.
The Battle is Jersey's biggest one of tourism events, regularly attracting about 30,000 spectators every year.
The first event was held in 1902 to celebrate the coronation of Edward VII.
Sponsor 'benefits'
Mr Maclean told BBC News: "The Battle has evolved over the years and the floats have become more sophisticated and therefore more costly.
"There are opportunities, I think, from the sponsor point of view in a subtle kind of way to give companies the benefit of getting something out of it."
The current States funding for the event is £140,000.
This year the Battle of Flowers grand parade will be held on Thursday 12 August and the moonlight parade on Friday 13 August.
The parish of St Helier, which hosts the Battle, is entering a float for the first time in eight years with all the blooms grown locally.