M&S becomes latest company to face anger over pay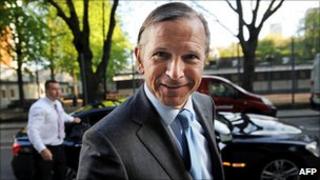 Boardroom largesse was guaranteed to be a hot topic in the age of austerity.
Big pay packages awarded to company directors have always had vocal critics.
But in an era of rising unemployment and pay cuts, the subject is reaching boiling point.
It is the season of companies' annual general meetings (AGM), and already investors have voiced their fury about remuneration at Tesco and advertising giant WPP.
On Wednesday, Marks and Spencer will be in the firing line - and specifically new chief executive Marc Bolland.
The retailer's AGM is traditionally a pleasant affair for the many private shareholders who make the trip; plenty of food and drink, and the occasional goodie bag.
But the meeting at London's Royal Festival Hall is likely to be dominated by one topic: Mr Bolland's controversial pay package worth up to £15m.
M&S investors have already tasted blood.
At last year's AGM, more than a fifth of shareholders who voted refused to back Sir Stuart Rose's re-election to the board over his dual role as chief executive and chairman.
With these roles now split, and Mr Bolland brought in as chief executive, M&S hoped that shareholders would be pacified.
Golden hello
But the huge pay deal given to Mr Bolland to lure him from supermarket Morrisons has further outraged some investors.
The pay package included a £7.5m 'golden hello' as an incentive to leave Morrisons, and an annual bonus of up to 250% of his £950,000 basic salary. He was also awarded M&S shares.
Pirc, the influential corporate governance consultancy, said rewards for M&S top brass as a whole are "highly excessive".
It has urged investors to reject the M&S remuneration report because the executives have "unchallenging performance targets" that are not "in the company's long-term interest".
Investor anger has been fuelled because last year M&S cut its dividend for the first time since 2000. The pain, say critics, is not being shared.
Sir Stuart did in March, however, agree to a 25% pay cut until he leaves next year.
Going rate
As chairman, Sir Stuart will be the lightening rod for investors' anger, and it will be fascinating to see how the combative executive handles the expected barrage of questions.
But he has already strongly defended Mr Bolland's pay deal, arguing that this is the going rate for top executive talent.
Sir Stuart can also point to a better-than-expected 3.6% rise in sales in the last quarter - M&S's third quarterly increase in a row.
He has predicted that the board's remuneration report will be "passed adequately".
This may well be the case. But investors could still embarrass the company if there is a high number of 'no' votes and abstentions.
Last month, at Tesco's AGM, 47% of shareholders failed to back the remuneration report.
A week before that 22% of shareholders at WPP's meeting did not support the board's pay packages.
Avoiding criticism
Cliff Weight, director of pay consultancy MM&K, believes that the recession has made shareholders more sensitive to bosses' pay.
"If [remuneration] committees want to avoid criticism at the AGM and look shareholders in the eye they've got to change and be more diligent and challenging," he said.
It is a message not just for M&S, but also for other companies that could this week be flashpoints of pay disputes.
In a sign that shareholder activism is gaining momentum, Burberry, British Land, and Sainsbury's are also tipped to face questions about remuneration at their AGMs.
All the companies reject criticism, citing in their defence such factors as the market rates for executive pay and total shareholder return.
But in the current economic environment an increasing number of investors seem in no mood to be assuaged by such arguments.