Council agrees to buy Hastings Pier in East Sussex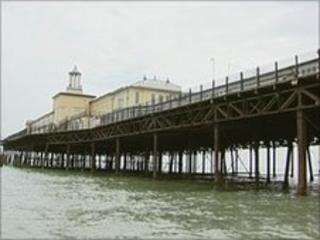 Hastings council has agreed buy the town's pier and hand it over to a trust to carry out essential repairs.
Campaigners have been fighting to secure the pier's future since it shut in 2006 amid fears it could collapse.
The council agreed to issue a compulsory purchase order against the pier's offshore owners after a study showed it could be made safe for £3m.
It will then hand it over to Hastings Pier and White Rock Trust (HPWRT) to carry out the work.
The pier is owned by Panamanian-registered company Ravenclaw, which the council has been unable to contact to discuss its future.