London firefighters 'threatened with sack by blog'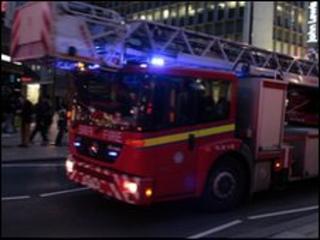 The Fire Brigades Union (FBU) has said a blog posting by London Fire Brigades' (LFB) commissioner threatens its entire workforce with the sack.
A message posted by Ron Dobson last Friday said that "if no significant progress is reached" in negotiations, he "may start formal consultation".
The LFB commissioner added that this consultation "may eventually involve termination of employment".
A LFB spokesman said the blog post "did not threaten workers with dismissal".
Regional FBU official Paul Embery said the blog posting was "an absolute outrage".
LFB is proposing changes to shift start and finish times for its frontline firefighters.
The proposals are for firefighters to work four 12-hour shifts a week, two starting at 0800 BST and two at 2000 BST.
The night shift would include a rest period of four hours.
'Unwelcome change'
"We've heard stories of companies sacking employees by text, but this must be the first time an employer has threatened to sack people by personal blog," Mr Embery said.
He added that FBU members had "devoted their entire careers to protecting the people of London".
He added: "So for them to turn up for work and be told by their boss, via his personal blog, that they will be sacked if their union does not agree to these detrimental changes is an absolute outrage."
But Mr Dobson said the proposals "had been discussed for five years now" and it "was more important than ever before to reach an agreement".
"As with every public service we have to demonstrate how we are using public funding effectively, so reaching a position on this matter is crucially important."
Negotiations were being held between the FBU and LFB on Tuesday.
The union has said it will launch an immediate ballot for strike action in the event that LFB "imposes unwelcome change".