Young artist's 'duel' exhibition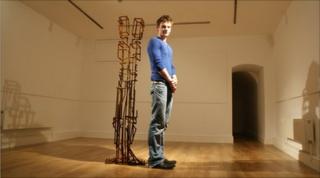 An artist from Caernarfon is exhibiting his latest work with an offer to create a piece of public art for free.
Anthony Lee Morgan's sculpture - Duel - features his first foray into working with metal, and he is keen to use his skill to create a series of dragons in the royal town.
He says he would work for free, as long as someone provided the materials.
Duel can be seen at the Dafydd Hardy Gallery in Castle Square, Caernarfon, from Friday 16 July to 6 August.
"It's the first time I've worked with mild steel, and welded the parts together," he said.
"Usually I work with other materials, and I've created pieces in clay and one from 5,000 empty cans - I didn't drink them all, but I did wash them all," he added.
Duel was initially two separate pieces created for his final work at college, but became two figures back-to-back after a bit of experimenting.
"Now there will be a circle of them, and people will be able to walk among them," he said.
The young artist is moving back to Caernarfon after finishing his degree course in Leeds.
Because all his work is large-scale there is a bit of an issue about where to store all his work, as the artist currently lives with his parents.
"Working on duel has given me loads more ideas.
"At the moment I've other projects I'm working on, although at the moment my work-shop is my dad's shed," he added.
For his free public artwork the former Ysgol Syr Hugh Owen secondary school pupil said he would like to create a series of dragons.
"I'd consider it such an honour and I'd want to try and contribute to making Caernarfon a centre for art, a national symbol of Welsh culture," he said.