Hawk used to scare seagulls away from Plymouth school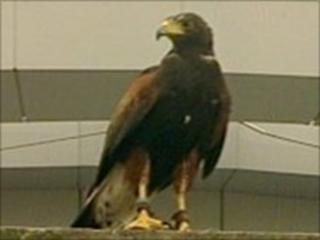 A Devon school is using a hawk to scare seagulls away from the playground after lunch and break-times.
Hope the Harris hawk is being used twice a week at Sir John Hunt Community Sports College in Plymouth.
Although seagulls have never attacked staff or pupils, there was concern that the birds could become aggressive when nesting.
The school said that since using the hawk, the number of seagulls had dropped from about 70 to 40.
'Very aggressive'
Mel Starr, facilities manager at the school, said: "The population is getting greater.
"We wanted to get rid of them because they carry disease, they're not very pleasant and if they end up nesting on site they can also become very aggressive.
"They [the hawks] don't kill the birds, they literally just fly around and the birds don't like them on site and stay away."
The school is also educating students about not feeding the birds or dropping litter.
Campus director John Butcher said: "This is a novel idea for managing seagulls on a school site, but the impact already seems to be very effective.
"Our students have a chance to witness how to creatively use nature to solve our problem."