Deadline over draft parade laws consultation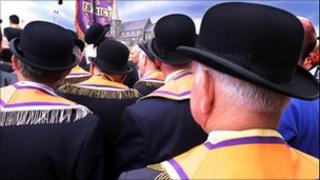 The consultation period for proposed new legislation on parading in Northern Ireland has finished.
Last week, the Orange Order threw the plans into chaos when it rejected the proposals.
The Order has refused to take part in the consultation process.
The public consultation on the draft Public Assemblies, Parades and Protests Bill ended at 1300 BST on Wednesday.
The draft legislation was drawn up following the report of the Working Group on Parades which was set up following agreement on the devolution of policing and justice at Hillsborough.
According to BBC NI political correspondent Gareth Gordon, the Grand Lodge's decision to reject it is potentially a crushing blow.
The DUP, however, is pinning its hopes on the fact that interested parties have until September to respond to the second part of the consultation process, on a Code of Conduct.
The Grand Lodge has already said its officers will meet in the near future to discuss the issue - a clear indication the door is not yet closed.
Privately, they have been warned that the alternative to the new proposals could be the retention of the Parades Commission, a body the order refuses to even recognise.
On Wednesday, the DUP's Jeffery Donaldson said there was some support within the Orange Order for the new proposals to resolve contentious parades despite the Grand Lodge's rejection of the plans.
Mr Donaldson said his party was hoping the Order would respond to the second part of the consultation on a parading Code of Conduct.
Meanwhile, as the consultation on the new parades legislation came to a close, Sinn Fein's Assembly member John O'Dowd said that the approach being proposed "offered a better way forward on the issue of contentious Orange marches".
Proposals
The Alliance Party has released its response to the consultation.
The party stressed "the importance of addressing parades in conjunction with a new strategy for community relations".
It said that while open to the new proposals on parades, the party was opposed to the new proposals for regulating public protests in relation to the application of human rights legislation.
The proposals to regulate assemblies include a qualifying threshold of 50 people and a notification period of 37 days.
The DUP and Sinn Fein set up a six-strong group to work on the matter after the Hillsborough Agreement in January.
The parties' brief was to propose a new and improved framework to rule on controversial marches, including a focus on local solutions, mediation and adjudication.
The proposals focus on dialogue and a code of conduct for both residents and marchers. They would also spell the end of the Parades Commission.