Lord Prescott highlights Lord Mandelson meerkat spoof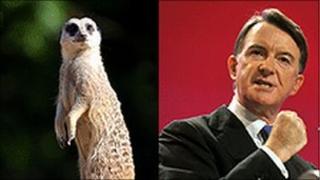 Ex-Deputy Prime Minister Lord Prescott has highlighted on Twitter a spoof video comparing ex-Business Secretary Lord Mandelson to a meerkat.
The footage mocks the Labour titan's recent advert publicising his memoirs, likening it to those promoting the Comparethemarket insurance website.
A puppet of a talking meerkat, reclining in a smoking jacket, has Lord Mandelson's voice dubbed on to it.
Lord Prescott jokes it is the "ad for the next instalment of his memoir".
Lord Mandelson's forthcoming book, the Third Man, is being serialised in the Times and contains reminiscences about the final days of Gordon Brown's Labour administration.
Biter, not a quitter
It alleges that leading cabinet members thought the election unwinnable months before May's general election.
In a TV advert for the newspaper, Lord Mandelson, sitting by a roaring open fire and clad in a black cravat and jacket, says: "Are you sitting comfortably? Then I'll begin.
"Once upon a time there was a kingdom and for many years it was ruled by two powerful kings, but the kings wouldn't have been in power without a third man.
"People called him the Prince of Darkness. I don't know why. But this fairytale wouldn't have a happy ending. But that's for next time."
The spoof advert also features a log fire, but the meerkat replacement for the peer instead wears a red velvet jacket and opts for a black-and-white paisley neckerchief.
The words of Lord Mandelson, who oversaw Labour's election campaign, are dubbed over some faux historical scenes from "meerkat history", including a pitched battle in which red and blue forces fight to the death.
The recently ennobled Lord Prescott, born John, has a history of comparing Lord Mandelson, born Peter, to animals.
Back in the summer of 1997, while surrounded by camera crews on a trip organised by the Environment Agency, Mr Prescott picked up a jar with a Chinese mitten crab inside it and called it "Peter".
It later transpired the creature's name, as conferred by river conservation staff, was Dennis.