President Obama unveils strategy to combat HIV-Aids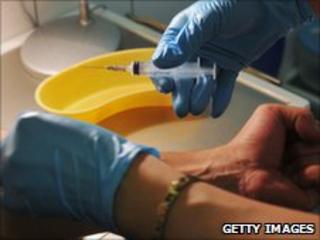 President Barack Obama has unveiled a nationwide strategy to combat HIV-Aids.
The plan aims to reduce new infections by 25% by 2015 and will target high risk communities, including African-Americans, gay and bisexual men, Latinos and drug users.
The strategy draws from attempts by the Bush administration to prevent and treat HIV-Aids in Africa.
It relies on better and more focused co-ordination among federal agencies.
"We've never had that kind of coordinated, accountable effort to address Aids in America, and that's what we need," Chris Collins of the Foundation for Aids Research told the Associated Press news agency.
The report on the strategy - released on Tuesday after over a year of research - notes that "the public's sense of urgency associated with combating the epidemic appears to be declining".
It recommends increasing education and social awareness programs, and aims to have 85% of newly-infected people receive care within three months of being diagnosed.
No new funding
No additional funding has been set aside to implement the strategy, which puzzles some HIV-Aids advocacy groups.
"This strategy is a day late and a dollar short: 15 months in the making, and the White House learned what people in the field have known for years. There is no funding, no 'how to', no real leadership," said Michael Weinstein, president of the Aids Healthcare Foundation.
Over 56,000 people are infected with HIV in the US each year - one person every 9.5 minutes - adding to the 1.1 million living with the illness.
But, in the US nearly 20% of those with HIV are not aware they are infected.