East Jerusalem homes demolished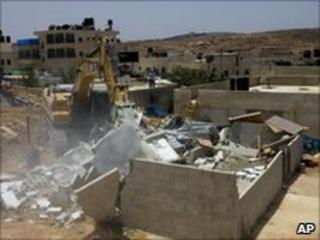 The Israeli authorities have used bulldozers to demolish three buildings in occupied East Jerusalem.
Israeli officials said the action was taken to enforce court orders against - what they called - illegal and unpopulated structures.
But residents say two of the buildings were inhabited by Palestinian families, while the third was a warehouse.
Israel has been under international pressure to stop demolitions in the area.
The US has described such actions as damaging to peace efforts.
Palestinians accuse Israel of discriminatory planning practices which deny them building permits, often leaving them no choice but to build illegally and risk demolition.
"I have to express my deep concern about the latest developments in East Jerusalem," European Commission President Jose Manuel Barroso said. Mr Barroso was speaking at a news conference attended by Palestinian Authority Prime Minister Salam Fayyad in Brussels.
"These are counterproductive developments. Settlements and demolition of houses are illegal, they are against international law, they constitute an obstacle to peace and threaten to make a two state solution impossible," said Mr Barroso.
Mr Fayyad said Israel's actions were "inconsistent with the need to continue to have the concept of viability for a two state solution".
The demolitions came a day after Israeli authorities approved the construction of 32 new homes in a Jewish settlement in East Jerusalem.
Israel has occupied East Jerusalem since 1967. It annexed the area in 1981 and sees it as its exclusive domain.
Under international law the area is occupied territory.
Palestinians want East Jerusalem as the capital of a future state.