Isle of Wight parents' last bid to save Chale school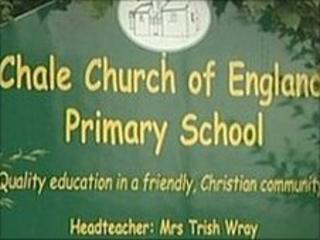 Parents at an Isle of Wight school being closed by the Conservative-controlled council are hoping to save it through a national Tory policy.
Chale Primary School is due to shut on Friday as part of a shake-up of the education system on the island.
Parents have now applied to Education Secretary Michael Gove to take it over.
The Department for Education said it would talk to councils before backing projects. Isle of Wight Council said it was watching the move "with interest".
Under the coalition government's "free schools" scheme, schools will be funded by the state but run by local people.
Isle of Wight Council decided in May 2008 to scrap the three-tier education system following a recommendation put forward by an independent panel.
'Early days'
It meant an end to middle schools on the island.
Before the closure was announced there were 25 pupils at the island's smallest school - now it only has 14 pupils left.
Alan Lock, chairman of governors, said: "We have been fighting for two years.
"We have taken petitions to Parliament, we have done all sorts of things to try and retain our school.
"There is a very strong feeling in the village that there should be a school."
Parent Adhask Lawrence said: "It is not only going to change our lives, it will affect the children.
"It is major disruption for them."
David Pugh, council leader, said: "Clearly they [the parents] will need to meet criteria set down by the government.
"I think it is early days, they will need to show their viability and that they can attract pupils. I watch it with interest."
The first "free schools" could open in September 2011.