Twin assault on street drinkers and beggars in Hastings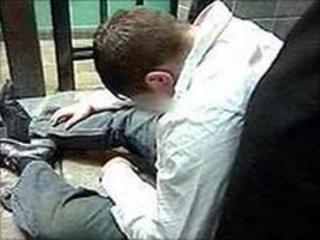 Police and council officials are taking a harder approach to tackling beggars and drinking on the street in Hastings.
In an attempt to protect residents and encourage visitors and businesses, they are pledging a tougher stance.
They will move on nuisance drinkers from the promenade and clamp down on off-licence staff who continue to serve habitual drinkers.
Council leader Jeremy Birch said: "Hastings really needs extra visitors and new businesses to invest here."
Following a meeting between Mr Birch and Hastings police Chief Inspector Mark Ling, a dispersal area has been identified on the promenade.
'Robust approach'
The police and Hastings borough council are also calling on businesses selling alcohol in the town to stop selling liquor to known street drinkers.
A council spokesman said: "Habitual Drink Orders will be considered which make it an offence to sell alcohol to a named habitual drinker."
Ch Insp Ling added: "We will take a robust approach against persistent street drinkers who are responsible for intimidation, harassment and anti-social behaviour.
"We will also use powers available to us under the Licensing Act to ensure that access to alcohol is restricted and sold responsibly. We will continue to work with Hastings Borough Council and other support service to find new ways of working to tackle and reduce this problem."
Councillor Birch said: "We get complaints from residents who feel intimidated by groups of drinkers and by aggressive begging. They also complain of offensive behaviour by individual drinkers.
"But we also have to look at these issues from the point of view of the prosperity of the town... The sight of large gatherings of street drinkers can deter the people we need to boost our economy and help us create jobs.
"But the message we are sending is that public drunkenness, anti-social behaviour and street begging will not be tolerated in our town. If anyone comes here thinking this behaviour is acceptable in Hastings we don't want them."