More sheep shearers may get UK immigration nod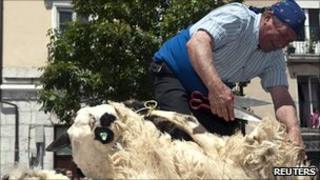 Foreign sheep shearers could be exempted from new UK immigration rules, the government has said.
There are fears a proposed cap on non-EU immigration could cause problems for businesses, including those in the agricultural sector.
But Security Minister Baroness Neville-Jones said exceptions would be made for some skilled workers.
The coalition had had representations from sheep shearers and was sympathetic to that profession, she added.
Questioned by the Lords Merits of Statutory Instruments Committee, Baroness Neville-Jones said: "We have to make sure that the system doesn't actually create a situation in which skills of that kind can't be imported...
"Some of those will clearly come in the 'scarce' category and there will be the ability for scarce category skills to be accommodated."
In June, the government announced that the number of skilled workers allowed into the UK from outside the EU would be cut by 1,300.
The figure will fall to 24,100 by April 2011, 5% less than in 2009, Home Secretary Theresa May said.