Slumberdown redundancies a 'body blow' to Hawick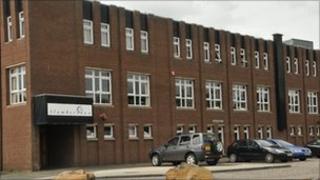 The majority of workers at the Borders-based bedding company Slumberdown have lost their jobs with immediate effect.
The company, which has premises on the Burnfoot Industrial Estate in Hawick, went into administration on Monday.
Workers attended a mass meeting at the factory on Tuesday where 58 people were told they had been made redundant.
A small number have been kept on for stocktaking. Scottish Borders Council's economic development spokeswoman said it was a "body blow" for the area.
Administrators Ernst & Young released a statement saying they were making 84 out of the 124 workforce across the group redundant with immediate effect.
The companies involved are Slumberdown Enterprise Ltd and Reffond, of Hawick and Blyth in Northumberland, who are manufacturers of duvets and pillows for high street chains.
It also affects Blyth-based Thomas H Loveday Ltd which is an importer and distributor of equestrian equipment.
Joint administrator Colin Dempster said: "The group has for some time struggled in the face of price increases of raw materials, intense competition and, more recently, weaker retail trading, as UK consumer demand has fallen.
"The directors had tried to resolve the financial position of the business through rationalisation, investigating strategic alliances and seeking alternative sources for their raw materials, but it is unfortunate that their attempts were unsuccessful in saving the group.
"We expect to receive interest in most of the group's assets."
Tony Trench, regional representative of the Unite union, criticised the way the situation had been handled.
"The management failed to communicate with the workforce and let them down," he said.
"Some of them have been working very hard here for the past 15 to 20 years and this is how they are treated."
Skills retraining
Councillor Vicky Davidson, executive member for economic development at Scottish Borders Council, said it was "yet another body blow for the area".
"The workforce at Slumberdown will be given as much support as possible in terms of skills retraining and employment, welfare and benefits advice through a co-ordinated multi-agency event," she said.
"This has been pulled together very quickly and information on the event was given out at the employee meeting on Tuesday.
"The council will work with Scottish Enterprise and Ernst & Young to provide whatever assistance we can although the underlying state of the wider Slumberdown group will determine the outcome."
A PACE multi-agency redundancy support event will take place on Friday in the Borders College in Hawick.