Stuart Cable's band release tribute single to drummer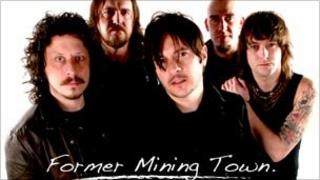 Stuart Cable's band are planning to release a tribute single to the drummer, who died aged 40 last month.
Killing for Company will issue the download-only single Former Mining Town on 25 July, with all proceeds going to a cancer charity and a a hospice.
Cable was found dead at his home in Llwydcoed, Aberdare, on 7 June. Tests are being carried out to establish the cause of death.
Thousands of people lined the streets for his funeral on 21 June.
The band said any proceeds from the sale of the single would go to Ty Hafan hospice, which Cable had been very supportive of, and the Teenage Cancer Trust.
They said in a statement: "To think Stu won't be joining us on stage anymore is a hard thought to face and although his passing is tragic, we hope to draw some positive from this difficult time.
"As a band, we are honoured and privileged to have shared the experiences we've had with Stu.
"We will be releasing the single, Former Mining Town, and dedicating it to Stuart. He was hugely proud of the album and this track in particular."
They added: "Not only have we lost a rock legend but also a best friend and the heart of our band. The stage will not be the same without him."
Frank Ady from Ty Hafan said: "Stuart was such a larger than life character and didn't hesitate whenever he was asked to help or support Tŷ Hafan in anyway. He will be missed by many, many people."
The single is being released via download from online retailers or from the band's website from 25 July.