Consortium pulls out Redcar's Corus plant bid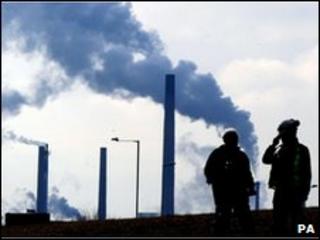 A consortium has withdrawn from discussions to save the partially mothballed Corus steel plant in Redcar.
About 1,600 jobs are being cut at Teesside Cast Products (TCP) following the collapse of a major contract.
The consortium, including local businessmen, claimed management at Corus appeared "unwilling" to engage in discussions.
Corus has said it is committed to finding a buyer and welcomes any "credible offers".
The consortium was brought together by Teesside entrepreneurs Chris Musgrave and Paul Weavers and also included a syndicate of investors who were being advised by metallurgy experts Hatch Corporate Finance.
The Redcar plant has been at risk since April 2009 when international buyers pulled out of a 10-year contract to buy steel slabs.
The firm also blamed the demise of the site on falling global demand and decreasing prices.
The blast furnace was shut down on 19 February.
Long-term solution
Corus, which is reportedly still in talks with Thai steelmaker SSI about a possible deal for the facility, has come under fire from unions and local politicians for not doing more to help rescue the site.
A spokesperson for Corus said the firm was making every effort to find a long-term solution for TCP and it had a "genuine commitment" to the process.
"As we have previously stated, we remain open to any credible offers from third parties interested in providing such a solution.
"To date, Corus has followed up every single enquiry and engaged constructively with any bidder that presented an offer which provided a viable future for TCP, including demand for the site's output.
"We remain in discussions with a number of parties."
The firm is the second largest steel producer in Europe. It was created in 1999 and employs about 20,000 people in the UK.