Shops say Langley Mill road works hurt trade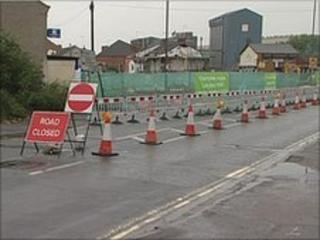 Shopkeepers in a Derbyshire town have said road works are putting people off coming to their businesses.
A roundabout is being built to serve a new Asda superstore in Langley Mill but this has led to Station Road temporarily becoming one-way.
Smaller traders have complained people are avoiding the area and signs do not tell them shops are still open.
Asda said it was aware of the problems and was working with the authorities to minimise disruption.
The work on the road began at the start of July and is expected to be completed by the end of the summer.
Asda concern
Gary Bannister, who runs a tyre business, said: "It is causing problems for customers getting in, even deliveries.
"They are just avoiding Station Road, sticking on the by-pass and missing me out altogether."
Paul Shepherd said his upholstery shop had also been affected.
"There is no one stopping outside the shop at all because they have signs out saying the road is closed.
"And some of those signs say nothing at all about shops still being open."
In a statement Asda said it was aware of the issues and "very concerned about any inconvenience caused to local residents or businesses".
It added that it would continue to work with county and parish councils and the main contractor to minimise problems.