Rockhopper on show for first time at Bedfordshire zoo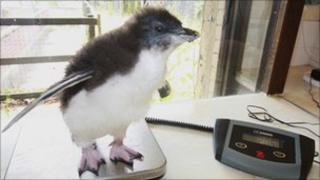 A 10-week-old rockhopper penguin has been introduced to the public at a Bedfordshire zoo after being reared by keepers in the safety of a bird garden.
The penguin was in danger of literally being "hen-pecked" by other penguins in the outside pool at Whipsnade Zoo.
Named Rocky, the young rockhopper weighed in at 2.05kg (4lbs 8oz).
The penguin's keeper said it was making very good progress and that when the youngster is fully grown its optimum weight should be around 2.75kg (6lbs).
He is enjoying a diet of whole sprats three times a day to give it the necessary vitamins it needs to get stronger.
Once three months old it can be moved from the indoor penguin nursery to the outside pool.