Injured Herefordshire soldier talks of return to 'civvy street'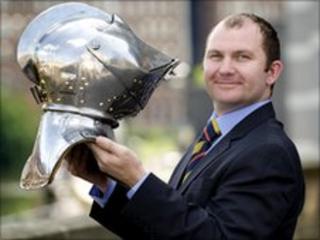 A Territorial Army soldier, injured while in Afghanistan, has been able to take up a work placement after taking part in a programme aimed a re-adapting injured soldiers back to 'civvy street'.
L/Cpl David Sterling Brown, of the Royal Mercian and Lancastrian Yeomanry, was on his third tour of duty in Afghanistan when a roof was blown from a building by the downdraught of a helicopter, just four weeks before he was due to return home.
Heavy rubble landed on him, breaking his vertebrae in three places.
"I woke up in a lot of pain," he said.
"And I did a very silly thing, I tried to crawl away."
The 39-year-old feared he would not be able to walk again, never mind be able to pick up his young son back home in Herefordshire.
But, after 18 months of rehabilitation, he can walk again.
"It is miraculous really," he said.
"I couldn't walk well and I needed help to do a lot of things."
The most difficult time, he said, was being stuck at home, unable to do much. And, even though there was joy when his partner became pregnant, that also brought fresh fears.
"Before my son was born, I was worried I would not be able to pick him up, play with him, play football with him or anything like that.
"I think that was my worst fear," he said.
Medieval armourer
Prior to the accident, L/Cpl Brown worked as a medieval armourer in Eastnor.
He soon realised he was in no position to return to the heavy work, which could include providing sets for theatres and films, and said he got "quite down" about his situation for a while.
"Its strange to find you can't do something which you've been doing for about 20 years," he said.
However, his previous skills as a medieval armourer proved to be invaluable to his recovery.
Through the Army's Return to Work Initiative, he was offered a placement at the Royal Armouries in Leeds, as a custodian of the national collection of arms and armour.
"I'm a lot more positive about it now. This placement at Leeds has been fantastic."
The mornings were spent looking at guns and armour, carrying out an audit, while the afternoons were spent in an office typing it all up.
"It's a big confidence booster," he said.
"With my sort of injuries you can become afraid to try anything in case you make things worse - so doing this has been great."
He has not yet decided about his future with the TA, although his fitness has improved so much he has started running and swimming again.
"I would love to go out on tour again - I have a dream to get fit enough to go out there again.
"But common sense may have to come into play and I may have to make the decision that I won't be able to do it any more. But that's a little way off yet."