Dulverton charity re-builds vehicles for war amputees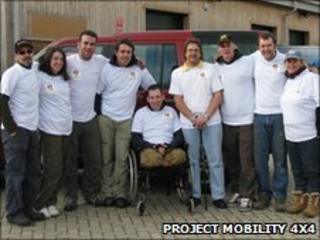 A charity in Somerset is re-building Land Rovers for use by soldiers who have had limbs amputated after serving in Afghanistan.
Volunteers help Project Mobility 4X4, based in Dulverton, use donated parts to build vehicles for the amputees.
The Land Rovers are designed to an individual specification for arm and leg amputees.
Sally Povolotsky, who came up with the idea, said the vehicles changed lives by "giving them independence".
She said: "For me it was about being able to know who you're benefiting.
"It's very easy to give money to charity, but I wanted to see the faces and meet the people that I could help."
L/Cpl Ben Hilton from the Coldstream Guards was the first recipient of a specially built vehicle.
Ms Povolotsky said: "Ben had lost both his legs above the knee but you can no longer drive a manual when you're a double amputee.
"So we had to convert it to automatic which is quite a task, but Land Rovers are great because you can take them apart and build them up.
"You can change somebody's life by giving them independence and we can get them in a car much quicker than they can get on limbs."
Sgt Martin White from the Household Cavalry, who volunteers for the charity, said: "Serving in the military I can connect with the guys that we're dealing with and I wanted to give something back. It's such a nice feeling."