Welcome to the new North America edition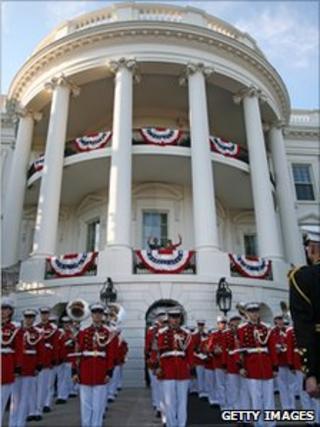 Welcome to the new, North America edition of the BBC News website.
We'd like to explain here, briefly, why we have taken this step to improve our service to users in the US and Canada.
For the first time, from today, we will have a dedicated website team based in the BBC's Washington DC office making sure that a new, North America edition front page reflects the stories, themes and issues which matter most to our users in the US and Canada, including - as now - the best possible selection of stories from around the site.
A few words of reassurance if you are a regular visitor to this site.
We asked our readers and viewers in North America what they valued most about the website, and we have taken care to leave those things in place: The best of the BBC's journalism from around the world in text, video and audio, the wide range of stories and issues covered by our global newsgathering teams, the expert analysis from our editors and correspondents, and of course all the news about what's happening in the UK too.
Some of you have asked if this means we are becoming a US news site in all but name. We're not. Our agenda will remain distinctively global, underpinned by the BBC's extensive international newsgathering operation, and our core values of accuracy, fairness and objectivity are unchanged.
Comprehensive coverage
In addition to the new look for the BBC News website as a whole (also launching today with improved design and navigation - explained here in the BBC Editors' blog) we will from now on be better able to provide fast and comprehensive coverage of major stories affecting North America. And we will be in a better position to provide in-depth reporting on the issues and themes behind those stories.
Maybe it would help to give a specific example: our recent coverage of General Stanley McChrystal's sacking by President Obama was one of the first major stories to happen on the watch of our new US online news team, which has been in place for a few weeks, preparing for launch.
They were able to take on this globally significant North American story, cover it prominently and comprehensively, in minute-to-minute detail as it unfolded, incorporating the insight and authority of our Washington bureau staff, immediate analysis and interpretation from the BBC's correspondents in the US and Kabul, plus informed blog posts, e-mails and tweets from around the world.
It was a great early example of how we have enhanced our ability to cover such stories well, and to reflect them better on the website, for the benefit of users in North America and everywhere else too.
New features
There are also some new editorial features to look out for:
- Global Views, a series of authored pieces that explore America's relationship with the world in surprising and - as in this piece from Australia - refreshing ways
- We're also delighted to announce that Matt Frei, anchor of the Peabody Award-winning nightly newscast BBC World News America, will be writing regularly here in American Frei - a new blog where you can get his take on how the world's most powerful country relates to everyone else. You can read Matt's column announcing his plans for the new blog here.
- North America editor Mark Mardell, already an established and central figure in our reporting of the US, joins Matt Frei and US state department correspondent Kim Ghattas on Twitter, where you can follow their reporting 140 characters at a time if you wish to.
- And today sees the first installment of a video blog by World News America's Franz Strasser, who is travelling across the US to report on immigration in today's United States. Franz has brought great insight, and a lively and fresh approach, to his reporting on home country Germany's transformation, and now we've asked him to set out on the road across the US, his adopted homeland, to record an outsider's view of an immigrant nation.
We hope you'll find the BBC News website North America edition to your liking - the extras we've mentioned here, the ones still to come, and the enhanced focus on the issues that most affect this part of the world, all seen through the prism of the BBC's global reporting.
Steve Herrmann, Editor BBC News website
Matt Davis, Editor North America edition