Tory MP's plea for help for leaking Newark school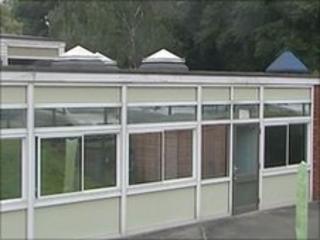 A senior Tory MP in Nottinghamshire has challenged the government over its decision to cut cash earmarked for a school with a leaking roof.
Newark MP Patrick Mercer raised the question about the Newark Orchard special school in the House of Commons.
He said lessons had to be suspended at times so pupils could collect the water in buckets.
The MP was told a minister would visit the 90-pupil school, which was in line for a £20m revamp.
Bucket brigade
Mr Mercer said: "When it rains heavily in this school the children have to stop being taught in order to hold buckets under the leaking roof."
Head teacher Margot Tyers said: "The school is dilapidated buildings and are past their sell-by date."
"The buildings leak when it rains and we had to replace a floor last year so the classroom was out of use for two weeks because it totally flooded the room.
"The windows are rotten and there is damp in the rooms… and the drains are collapsing so the actual smell is disgusting and it is not something that students should have to put up with," she said.