'Jobs deficit' if growth targets missed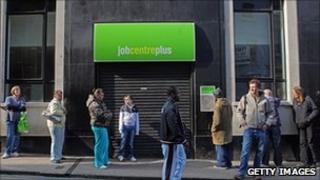 The UK's job market could be hit hard if economic growth even slightly undershoots official forecasts, a leading employment group has warned.
The Chartered Institute of Personnel and Development (CIPD) said growth needed to be at least 2.5% between now and 2015 to maintain job numbers.
The Office of Budget Responsibility is forecasting growth of 1.3% this year, 2.6% in 2011 and 2.8% in 2012 and 2013.
Official UK unemployment figures are released later.
Last month's figures showed there were a further 23,000 jobless people in the three months to April, taking the total to 2.47 million.
The unemployment rate also rose from 7.8% in the previous quarter to 7.9%.
Job cuts
The CIPD said that annual growth of 2.5% between now and 2015 was necessary for the private sector to create enough jobs to offset those that would inevitably be lost by government spending cuts.
The new coalition government has recently announced stringent cuts designed to reduce the UK's large budget deficit.
These cuts will see hundreds of thousands of public sector jobs go in the next few years, according to Office of Budget Responsibility (OBR) figures.
The government argues that such cuts are necessary to restore confidence in the UK's finances and in its economy. Critics argue that the cuts could undermine the recovery.
"Against the massive public sector job downsizing, it doesn't take anything like a double-dip recession to cause a serious prolonged jobs deficit, merely economic growth in the range of 2% to 2.5% a year rather than the 2.5% plus (above trend) annual growth rates the OBR expects and the government hopes for," said Jon Philpott, chief economic adviser to the CIPD.
"A slightly milder growth outcome - which many would consider a decent recovery in output given the various strong headwinds at present facing the economy - is easily as imaginable as the OBR forecast and would leave unemployment still close to 2.5 million by 2015."
The OBR forecasts a net gain in employment of 1.3 million between 2010 and 2015, the CIPD said. This means unemployment peaking at 8.1% this year before falling to 6.1%.
The CIPD, however, forecasts a rise of just 100,000 by 2015 "on only slightly more pessimistic growth assumptions".
Under this scenario, the unemployment rate peaks at 9.5% in 2012 before falling to 8% by 2015.