Rogue Afghan soldier killings fill papers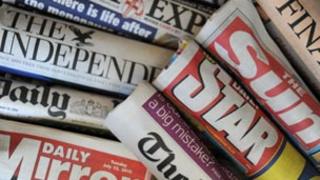 The papers have extensive coverage of the killing of three British soldiers and the wounding of four others by a renegade Afghan serviceman.
"Executed in bed by the enemy within", the Daily Mail declares.
The the Guardian says "shots rang out and the killer 'comrade' fled - taking the trust with him". It thinks the war will now be harder to sell to the public.
Meanwhile the Independent decides the "bloodbath at Patrol Base three" has left the "Afghan strategy in doubt".
Double dip recession?
In other news, the Daily Telegraph reports a warning by the economist Geoff Dicks that "millions face a four year fall in their standard of living".
He suggests workers are prepared to accept pay freezes but warns the coalition's "austerity" budget may make a "double dip" recession more likely.
The Independent says Business Secretary Vince Cable is about to initiate the era of "the two year degree".
It reports more students will be encouraged to live in the family home.
Holidaying at home
The decision by the Home Office to revoke the British passport of Russian spy Anna Chapman is in several papers.
The Times notes "agent 36-24-36" has been kept under virtual house arrest in Russia, while the Guardian simply says "Dosvidanya Anna".
The Independent reports the recession and weak pound has seen the number of Britons holidaying abroad fall by 15%.
The Daily Mirror says "the reign of Spain is mainly on the wane" as Britons head to Turkey and North Africa.
Chicken and egg
The Daily Express reports a Red Arrows show was cancelled by health and safety chiefs worried about reverberations from the low-flying jets.
"Bad vibrations" is how the Telegraph sums up the story.
The Daily Express says scientists from Sheffield and Warwick University appear to have "cracked" the conundrum of what came first, the chicken or the egg.
It reports the formation of egg shells rely on a protein found in chicken's ovaries - so the chicken came first.