Donegal crash funerals take place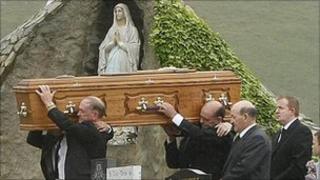 The first funerals for the Donegal men who died in Ireland's worst road crash have taken place.
Eight people died in the crash on Monday on the Drumfree to Clonmany road, 15 miles from the NI border.
Seven of the dead were in a Volkswagen Passat, the driver of which survived. The eighth was 66-year-old Hugh Friel, the driver of the second car.
His funeral mass was held in St Michael's Church, Urris. He was buried in the adjoining cemetery.
It is believed that Mr Friel, from Dunaff, Clonmany, had been returning home after playing bingo in Buncrana.
The seven young men who died in the Passat were 21-year-old Mark McLaughlin, from Fahan; Paul Doherty and Ciaran Sweeney who were 19 and from Ballyliffin; Patrick McLaughlin, 21, from Burnfoot; 22-year-old Eamonn McDaid and 21-year-old Damien McLaughlin, both from Buncrana, and James McEleney, 23, from Clonmany.
In Fahan, mourners gathered at St Mura's for the funeral of Mark McLaughlin.
Father Neil McGoldrick said the events of Sunday were "like a tsunami, rolling across Inishowen, overwhelming us all".
The funeral of Patrick "PJ" McLaughlin was also held in Fahan on Wednesday.
Paul Doherty, Ciaran Sweeney, Eamonn McDaid and Damien McLaughlin will be buried on Thursday, and James McEleney will be buried on Friday.
Birthday
Paul Doherty's uncle, Cecil Doherty, said his nephew would be buried on what would have been his 20th birthday.
He told BBC Radio Foyle the bereaved families were supporting each other.
"These people are suffering terrible tragedies," he said.
"We have parents going round all the different wake houses, passing on their condolences.
"There is a collective sadness here. It was a horrendous accident."
The Irish prime minister, Brian Cowen, on a trip to New York, extended his sympathy to the families of those killed.
"I am deeply saddened to learn of these deaths and I want to extend my sincere sympathies to everyone who lost loved ones," he said.
The surviving driver was taken to Letterkenny General Hospital where he is now said to be in a "seriously ill, but stable" condition.
Traffic police said the black Passat saloon was believed to have collided with a white Renault before the driver lost control and ploughed into a red Toyota 200 metres away.