Ten rescued after fire at flats in Staplehurst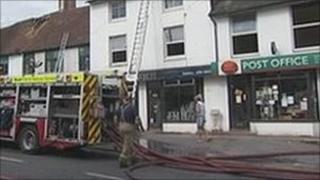 Ten people have been rescued after a fire spread through flats above a post office in Kent.
The blaze broke out in a first-floor flat of a building in High Street, Staplehurst, at 0330 BST and spread to a second flat.
Kent Fire and Rescue Service said 80 firefighters and 10 fire engines attended the scene.
Kent Police said no-one was injured and the cause of the fire was not yet known.
Stuart Skilton, Kent fire commander, said it was a "serious and well developed fire".
'Personal memories'
He said: "We were concerned that there may have been people in the building.
"Crews spent a couple of hours searching but fortunately no-one was trapped or hurt."
Hadley Porter said his flat had been destroyed by the fire.
He said: "All my life was in that flat. All my photos and personal memories are all gone. It's heartbreaking."
High Street was closed in both directions and motorists were urged to avoid the area.
The local council's emergency planning team said it will find temporary accommodation for residents unable to return home.