Burma rebels to walk free after 12 years in Indian jail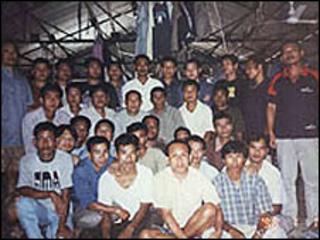 A group of 34 Burmese rebels held in an Indian jail for 12 years have entered a plea bargain in a Calcutta court to pave the way for their release.
They admitted immigration offences after prosecutors dropped more serious gun-running charges.
They claim they were lured in February 1998 to India's Andaman islands by an Indian military intelligence officer who offered them sanctuary.
But on arrival, six of their leaders were shot and the rest detained.
The officer left the Indian army immediately after the incident and is said to have settled down in Burma, giving rise to suspicions he may have been a double agent for Burmese intelligence.
Accepting the plea bargain on Tuesday, a judge sentenced the rebels to three-and-a-half years in jail and imposed a $128 (£84) fine.
The rebels, from Burma's Arakan area, have served their sentence and can be freed once they pay the fine.
"We don't have any money, so we look forward to the Burmese community in India to pay for our release. After all they have borne our legal expenses," said Thein Oung Gyaw, one of the rebels.
Ten of them are from the Karen National Union and the other 24 are from the National Unity Party of Arakan, both fighting for separate homelands in Burma for the Karen and the Arakanese people.
India's Central Bureau of Investigation took seven years to draw up formal charges.
The rebels were shifted to a prison in Calcutta from the Andamans after a leading human rights lawyer, Nandita Haksar, intervened.