Osprey chicks in Northumberland ringed by rangers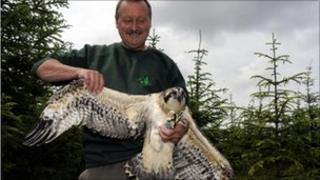 Three osprey chicks born to a nesting pair in Northumberland have been ringed to help experts track their progress.
The birds are the offspring of a pair which last year raised the first osprey family in the north-east of England for at least 200 years.
The chicks were born in a special tree-top nest created by rangers in the 155,000-acre Kielder Forest.
The birds were lowered to the ground and were then tagged by staff from the Forestry Commission.
Commission ornithologist Martin Davison, who carried out the delicate procedure, said: "Ringing the birds is vitally important.
"It has to be done at this stage because the chicks will soon fly from the nest.
Docile birds
"Rings carry vital information like where and when the birds were born, and to some extent can be read over a distance using a telescope.
"It's really our best chance of finding out how they fare in the big wide world."
The ospreys were lowered from their nest by a tree-climbing Forestry Commission ranger and were also weighed and had their wings measured.
Despite their size, the birds were docile and were returned to the nest quickly.
The chicks' progress has been monitored on live CCTV being beamed to Kielder Castle Visitor Centre from a nest camera.
They are due to leave the nest within the next two months to begin a 5,000-mile (8,000km) migration to Africa.
Ospreys were once found widely, but persecution resulted in the species becoming extinct in England as a breeding bird in 1840 and in Scotland in 1916. They re-colonised naturally in Scotland in 1954.