Donagh sex abuse victims pull out of meeting with Ford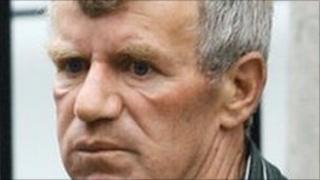 Some of the victims of sexual abuse by four brothers in Donagh, County Fermanagh have withdrawn from a meeting with the Justice Minister on Wednesday.
It will discuss changes to mental health legislation after two of them, found to have abused children in the village for 30 years, were released.
James and Owen Roe McDermott were not sentenced as they were declared mentally unfit to stand trial.
But two of the victims said the meeting has been "politically hijacked".
Between them, the McDermott brothers, from Moorlough Road in Donagh, faced 60 charges of abuse spanning five decades.
John McDermott was jailed for nine years in June for the abuse, which was described as frequent, regular and persistent.
Peter Paul McDermott took his own life during his trial on abuse charges involving two young boys.
The other two brothers, James and Owen, were given lifetime orders banning them from being with children, and a two year treatment and supervision order placing them in the care of social services.
They are living in their own home in Donagh, close to children's play areas and where their victims and their families live.
'Legislation will be changed'
The meeting was arranged by six victims who took the court case against the McDermott brothers.
They want to discuss changes to the Mental Health Act.
In the wake of the public outcry which the case provoked - government ministers said that it is "inevitable that legislation will be changed".
Fermanagh Sinn Fein MLA Michelle Gildernew and a local Sinn Fein councillor will also attend the meeting, as well as a representative from community groups in Donagh.
This has upset two members of the group who have decided not to take part in the meeting.
In a statement they said: "We vehemently resent the involvement of political representatives without our permission.
"This decision was taken at a meeting where we were not present and we were not informed that it was going to take place.
'Political football'
"We feel that this meeting would be much better handled by the victims and without any political interference.
"The last thing the victims and the community wants is for the whole matter to be turned into a political football."
Although the victims are meeting the Justice Minister, mental health and social services are the responsibility of the Health Minister Michael McGimpsey.
The victims said they are concerned that two paedophiles are back living in the local community.
They want social services to remove them.
BBC Newsline district journalist Julian Fowler said the two victims who have decided to pull out of the meeting with David Ford said local politicians and community groups should be targeting this issue.
"It's my understanding that this is where their concerns lie that this is being turned into a political football - because they say they've been told that Michael McGimpsey has refused Michelle Gildernew's request for a meeting to discuss the situation in Donagh."
Following the trial in June, the health minister said he intends to change the Mental Health Order.
Michael McGimpsey said one aspect of the new law would involve a new definition of mental disorder.
This, he said, would change how individuals whose conduct or behaviour poses a significant risk to others, are dealt with.