Blair 'broke promise to Brown not to run a third time'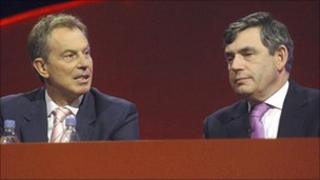 Former Prime Minister Tony Blair went back on a promise to Gordon Brown not to fight a third general election, Lord Mandelson claims.
The ex-business secretary also reveals that Mr Blair once described Mr Brown, then chancellor, as "mad, bad, dangerous and beyond redemption".
As tensions grew, he likened his rival to a mafia boss, Lord Mandelson adds.
Downing Street aides even drew up a plan to split the Treasury, to damage Mr Brown's power base, he says.
The revelations come as Lord Mandelson's memoirs are serialised in the Times newspaper.
'Something wrong'
Detailing the struggles between the prime minister and chancellor during Labour's years in power, he says that, under pressure from Mr Brown, Mr Blair agreed in 2003 that he would not fight the next general election.
However, he changed his mind in early 2005 and went on to lead Labour to an unprecedented third victory for the party in May of that year.
Lord Mandelson says that, after Mr Blair's rethink, Mr Brown came to him to demand that he finally gave an exit date. Mr Blair did not finally stand down until the summer of 2007.
On two occasions Mr Blair was said to have considered moving Mr Brown from the Treasury to the Foreign Office - but each time decided against this fearing that he would resign and pose a greater threat as a backbench MP.
Mr Blair is quoted as saying that even the then deputy prime minister John Prescott was "scared" by Mr Brown. "He knows there's something wrong with him," he reportedly said.
In his memoirs, entitled The Third Man, Lord Mandelson claims Mr Blair described Mr Brown as "flawed, lacking perspective and having a paranoia about him".
He is also quoted as saying: "He's like something out of the mafiosi. He's aggressive, brutal... there is no one to match Gordon for someone who articulates high principles while practising the lowest skulduggery."
Lord Mandelson alleges that Mr Blair "variously believed, and told me, that Gordon was mad, bad, dangerous and beyond hope of redemption".
After Labour's 2005 election victory, the peer relates how Mr Blair described a meeting he had with Mr Brown to discuss pension reform.
"It was the ugliest meeting he had ever had... I have never been confronted with such ugliness in my life. It was a naked, undisguised threat," Lord Mandelson writes.
'New generation'
He describes how, together with former BBC director general John Birt and No 10 chief of staff Jonathan Powell, they secretly devised plans to split up the Treasury, codenamed Operation Teddy Bear.
A US-style office of budget and delivery would have been set up, leaving Mr Brown in charge of a new ministry of finance handling taxation, markets and financial services.
However, Mr Brown would have lost control of Whitehall departmental spending, reducing his power.
Following the revelations, Labour leadership contender Andy Burnham said it was time for the party to move on from the feuding of the Blair-Brown era.
He told BBC Radio 4's Today programme: "I think it's time for a new generation in the Labour Party to go forward, hold the floor and set out our views for the future of the Labour Party.
"These revelations really go to the heart of why I'm standing. We really need a clean break from this kind of politics."