Fergus Muirhead answers your money questions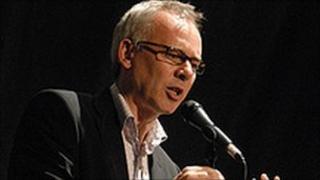 I'm Fergus Muirhead and I'm trying to answer any money or consumer problems you may be facing at the moment.
You can contact me by e-mail at fergus@bbc.co.uk
I will deal with a selection of your e-mails every second Wednesday on lunchtime Reporting Scotland, Scotland Live and on the BBC Scotland news website.
I also have a blog at www.moneysucks.net
Q. I recently booked a return flight online with Flybe for a group of seven people from Edinburgh to Birmingham. I was charged £8 per person for the return flight for paying by debit card which would have cost more if paid by credit card. This seems very excessive as I am sure that last year I was charged one amount for the whole transaction and not individually. Are they allowed to do this? If I had paid by Visa Electron there would have been no charge. How and where is this type of card available, how does it work and are there any charges involved in operating it? Dorothy Smith
A. It does seem excessive Dorothy and it's something that I have noticed is happening more and more. Not only are charges being levied when you pay with credit or debit cards but there is a big difference between these charges for different cards and with different airlines, and if, as you say, you are booking for a large group of people, it can make a big difference to the overall cost of your trip. You need to check the cost of using credit and debit cards and factor it into the overall cost of the flights before you go ahead and click to buy! As far as the 'electron' card is concerned it is a form of debit card that doesn't allow you to go overdrawn and so far is the only one that most airlines don't charge extra for when it is used to pay for flights. The unfortunate thing is that very few banks now issue them, and in fact are replacing them with the more widely accepted debit card at renewal. All the more reason to be careful when booking what look like 'cheap' flights!
Q. Pre-election, the Conservative Party promised that they would raise the threshold of liability to IHT to £1m yet there was no mention of this in the recent budget speech. Did I miss something? John Waterson
A. No you didn't. It was a measure that the Conservatives said they would introduce if elected but it has since been decided to leave the Inheritance Tax band where it is for the next couple of years. Currently the nil-rate band (effectively the amount of your estate that is not liable to tax) is £325,000 and tax is payable at 40% on the excess.
Q. I'm interested in finding out what is happening to pension legislation for higher earners and whether this has been changed in the budget (I'm afraid I've been living abroad for a period of time and I'm not sure what changes have been implemented). As I understand it the previous labour government had invoked legislation to basically tax pension contributions (I think this might be employee and employer contributions) if you earned more that £150,000. Is this correct, and was there not also something in the legislation regarding changes if you earned above £130,000? As I understand it, these changes were to become effective in April 2011. Finally, I think there may have been also some commentary around these changes becoming effective if you changed the amount of your pension contribution, but if you kept it as is then you would be exempt! Amanda Mason
A Lots of points in this question, and not many answers at the moment I'm afraid. You are right when you say that the last Labour Government intended to change the rules relating to pension contributions for higher earners, and that definition charged from £150,000 to £130,000 at some point during their deliberations. The plan wasn't to tax pension contributions rather to reduce the level of tax relief available on contributions. At the recent budget, however, the new chancellor suggested that these plans would have been complex and difficult to administer and so we have effectively entered a 'consultation' period to look at an easier way to change the rules. Most commentators are suggesting that the simplest way to do this would be to allow tax relief at its current rate but to limit the amount that can be paid into pensions to something like £30,000 or £40,000 per annum, rather than 100% of salary (up to £255,000 for tax year 2010/11). Watch this space, as they say!
Q Was wondering what earning related state pension meant? I am 58 years old. Also what do they intend to do to public sector pensions, as I retire in two years? Finally, do they have ideas as and when the retirement age will rise? Lillian Forsyth
A. Your first question is much easier to answer than your second or third! The State Earnings Related Pension Scheme has been replaced by the State Second Pension and is an amount that is payable to employees who were members of the scheme. I know that sounds very simplistic but the point is that there are a lot of employees who chose to 'contract-out' of this particular pension and they received alternative benefits from a private arrangement. The Scheme paid an amount in addition to the Basic State Pension related to earnings while you were working. The rules relating to eligibility are complex and have changed several times over the years - before it was called the State Earnings Related Pension for example it was known as the Graduated Pension. You will find more information on it at http://www.direct.gov.uk/en/Pensionsandretirementplanning/StatePension/DG_183780
As far as the Government's intentions in relation to public sector pensions are concerned, your guess is as good as mine (well hopefully not, but you know what I mean). There is no question that the whole area of public sector pensions will be looked at closely over the next year or two and there are several options for the Government. It may be that salary that counts for pension is capped, or that employee contributions will be increased, or that pensions will not increase every year as they currently do. It may be all three or more that I haven't mentioned.
Again there was mention at the recent budget of an increase in pension age and this has yet to be finalised but it is certain that pension ages will increase, although remember that there is a difference between the State Pension age and the age at which you are able to start to draw benefits for public sector or private pensions. It is also not always necessary to stop work before starting to draw benefits from a pension.