Dieting dad from Llanelli named as slimming winner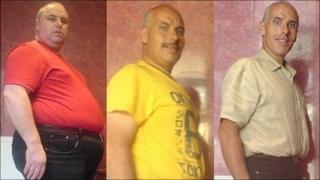 A father of four, from Carmarthenshire, who ditched a diet of pizza and doner kebabs has been named as a slimming group's UK champion.
At 24st 4.5lb (154kg), Stuart Howells, from Llanelli, was so overweight he had to be hooked up to a machine to help him breathe in the night.
But over a two year period, he managed to shed half his body weight, a massive 12st 5lbs (79kg).
The 43-year-old has now been named as the Slimming World Man of the Year.
"I was feeling so low about my weight and the effect that it was having on my life that I began to have suicidal thoughts," he confessed as he picked up the award at the Ritz in London's Piccadilly.
"I was desperate and went to see my GP to plead to be referred for surgery.
"Luckily though, when I went to my doctor's surgery I saw the nurse for my blood pressure.
"She told me about Slimming World and invited me to come along to group. It was the moment that changed my life."
Out went his diet of take-aways and microwave meals - and in came baked potatoes, lean mince chillies, salads and fresh fruit.
"As a dad of four I was worried about my children and leaving them behind if I died. I felt like a coward and failure," he admitted.
But after joining his local slimmers' club in Llanelli in 2008, he dropped 8lbs (3.6kg) in the first week.
And he kept with the slimming plan - and the weight kept coming off.
"My self-respect and confidence are now sky high," he said Stuart.
"I feel I can overcome any problem life throws at me.
"Before I lost weight there was so much I wanted to do and couldn't. I wanted to run, but I had a weak ankle and I would fall down in agony if I did too much. I wanted to go on rides at the theme park, but I couldn't fasten the seatbelt or pull down the shoulder restraint so I had to get off.
"I felt so humiliated. I wanted to fly without having to get a seatbelt extension, go to the cinema without having to sit in an aisle seat."
But he said that his life had now turned around, even running his first half-marathon recently, and helping out with his children and football training sessions.
"Now I have a life," he added.
"I can cycle, play football. No activity is off limits."