'Talent gap' in renewables pushes up pay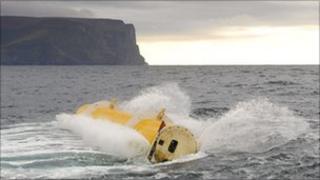 A shortage of talent in renewable energy has inflated salaries as firms compete for workers, according to a new study by a management consultancy.
The Hay Group surveyed 25 human resources experts and 20 businesses.
It said the results showed that companies were increasing pay to keep key staff.
Client confidentiality prevented the consultants from revealing salaries, but an internet search shows posts with salaries of up to £75,000.
The Hay Group said 73% of employers surveyed reported concerns about retaining key talent this year.
One in five firms have offered cash or incentives such as a long-term shares scheme to set themselves apart from the competition.
'Very difficult'
However, the Hay Group said the survey also showed that money was not the main motivator for workers.
More than 70% of employers reported that opportunities to progress in their careers were the primary reasons for employees leaving for another company. Only 21% left for financial gain.
Staff involved in offshore projects, such as offshore technicians and project managers, were most likely to leave.
Gavin Brown, reward information consultant at Hay Group, said the survey had revealed the renewables sector to be one of the best rewarded in the UK.
He added: "Even during a very difficult economic period, growing sectors like renewables are defying the rest of the employment market by increasing pay as companies try to establish themselves as market leaders."
A search over the internet for jobs in the industry shows UK-based posts with salaries of £65,000 to £75,000 for a renewable solutions advisor and £25,000 to £45,000 for a project manager.
In Scotland, a senior offshore project manager posts comes with £60,000 pay and benefits.
Greater use of renewable energy will help Scotland recover from the recession, Highlands and Islands Enterprise (HIE) said in April.
Achieving a low carbon economy - which includes increasing use of wind, wave and tidal power - is a key target in the agency's recently launched operating plan.