Sheep shearer shortage concerns raised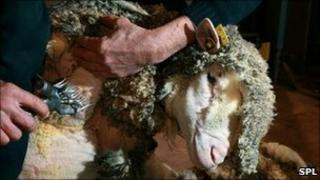 Concerns have been raised by farmers about the impact of a block on overseas sheep shearers coming to the UK.
Last year employers had to seek work permits and there are fears they could be affected by new immigration laws.
About 500 sheep shearers come to the UK from abroad each summer to help clip the fleeces of some 14.5m animals.
Will Dickson, a sheep farmer in the Borders, told BBC Radio's Good Morning Scotland programme that the industry depended on foreign shearers.
Security Minister Baroness Neville-Jones had said exceptions would be made for some skilled workers.
Although this could include the shearers, there are still concerns in the industry.
Mr Dickson said: "Personally I shear about 140,000 sheep in the Borders as a shearing contractor.
"Probably 70,000 of them will be shorn by New Zealanders.
"If I can't get hold of New Zealand shearers I don't know how we'd manage it."
Experienced shearers can deal with about 12,000 to 14,000 sheep in a 10-week period while a learner can manage only about a quarter of that number.
'Frowned upon'
Mr Dickson said it was impossible to find enough people in the UK who wanted to do the job.
"We do have a lot of good Scottish and British shearers but there just aren't enough," he said.
"There just aren't enough people who want to take it up.
"Hard work seems to be frowned upon, no-one wants to work so hard any more."
He said it was intense, physical labour and the season only lasted 10 weeks unless you were prepared to travel overseas.
"You can make money if you get good at it but it takes a long time before you can shear enough in a day to make it worthwhile," he added.
He said it was vital to continue to allow foreign shearers to come into the UK - but also stressed the importance of funding to help encourage more young people to take up the profession.