Jobs to go at Prestwick Airport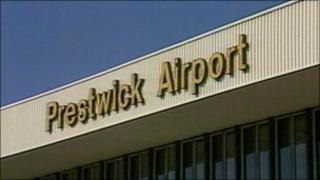 Jobs look set to go at one of Scotland's largest airports after a significant drop in passenger numbers.
Prestwick Airport, in South Ayrshire, said it had informed staff and unions that a 90-day consultation period would begin on 16 August.
The firm said this would examine ways to reduce costs and would likely lead to redundancies.
Prestwick announced in February last year that it would shed 120 jobs as a result of the economic downturn.
Chief executive Iain Cochrane said: "The combination of the severe economic downturn, a general decline in UK aviation activity, Scots holidaying at home, the government's Air Passenger Duty and Ryanair cutting winter capacity at Glasgow Prestwick this year by around 52% compared to this summer, will have a significant impact on our business.
"Consequently, we have informed staff and unions that we will begin a 90-day consultation period on 16 August to examine ways to reduce costs and ensure that our resources are best deployed to match our business needs. I am very sorry to say that in this review it is likely that there will be redundancies.
"These are extremely difficult times but we are optimistic about the long-term future of the airport and the aviation industry as a whole, which has experienced turbulent times in the past but has always recovered well."