Barbecue attack appeal renewed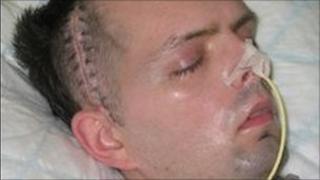 The father of man still in a coma, four years after being attacked, has called on community leaders to encourage those with information to come forward.
Paul McCauley, 34, was attacked at a barbecue in Londonderry in July 2006. Only one man has been convicted for his part in the attack.
Darryl Proctor pleaded guilty to inflicting grievous bodily harm with intent in February 2009.
The police have renewed their appeal for information.
James McCauley said he had felt frustrated that police in the past had met with a "wall of silence" in their investigation.
"When there have been serious attacks, or indeed murder, community leaders have been quite public in their call for information to be passed to the police," said Paul's father, James.
"In the case of the attack on Paul, I think the frustration was four years of silence from community leaders.
"There has been no public encouragement for those with information to come forward."
'Brutal attack'
Mr McCauley and his friends were at a barbecue at Chapel Road, Derry, when he was attacked.
Proctor, from the Fountain in Derry, was 15-years-old when he attacked Mr McCauley.
Mr McCauley sustained multiple injuries, including a brain haemorrhage and a fractured skull.
He suffered two heart attacks on the way to Altnagelvin Hospital and remains in a vegetative state.
James McCauley said their had been no improvement in his son's condition since the attack.
"Paul has not moved a muscle or spoken since the night he was attacked," he said.
"He is quite clearly nearer death than life."
Chief Inspector Nick McCaw said an review of the case had uncovered a number of "possible avenues".
"This attacked involved up to 12 people. It was a brutal attack, it was highly publicised. I want people to know the PSNI investigation team has not gone away," he said.
"We have committed more detectives to the team and have a number of avenues of inquiry that we will be progressing.
"In particular, I want to appeal to community leaders in Clooney, Lincoln Courts, Irish Street and the Fountain estate because there are people in their who have the answers to what happened that night.
"Do the right thing. If this was your son, left in the state that Paul was left in you would want those people brought to justice."