Ex-hostage Betancourt drops kidnap compensation claim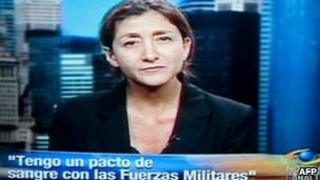 Former Colombian politician Ingrid Betancourt, held by rebels for six years, has dropped a lawsuit seeking damages from the Colombian state.
Her lawyer withdrew the claim that sought $6.8m (£4.5m) in compensation, the attorney general's office said.
Ms Betancourt's decision to seek damages for emotional distress and loss of earnings provoked widespread criticism Colombia.
On Sunday she defended her actions, saying the amount was "symbolic".
Her aim in filing for damages was to help other ex-hostages in their attempts to get compensation for their ordeal, she told Colombian media.
Ms Betancourt argued that the authorities had taken away her bodyguards, and had allowed her to travel by road in an area where guerrillas from the Revolutionary Armed Forces of Colombia (Farc) were known to be active.
"They let me continue by road. If it was so risky, they should have blocked me and not let me go on," she told Caracol radio and television.
Colombian officials say she ignored advice not to go to the region where she was kidnapped in 2002 as she campaigned for the presidency.
In July 2008, Farc rebels were tricked into handing Ms Betancourt and 14 other hostages over to soldiers masquerading as members of a humanitarian group that had volunteered to fly them by helicopter to a new location.