Pensions: Final-salary scheme deficits worsen in June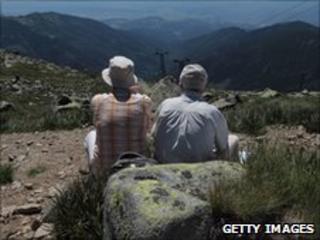 The deficit of final-salary pension schemes in the UK collectively widened in June, the Pension Protection Fund (PPF) has said.
At the end of the month, the deficit of the 6,653 schemes had worsened to £21.8bn, the PPF said.
The shortfall compared with a surplus of £11.7bn a month earlier, but was less than the £149bn deficit of a year ago.
The falling value of shares was a key reason for the change.
There were 4,420 schemes in deficit at the end of June, representing 66% of private-sector defined-benefit schemes.
The deficit for the month to the end of May was revised up from a deficit of £41.5bn to a surplus of £11.7bn.
This was because the way the funding position of schemes is calculated was changed to use more up-to-date data.
Future
Debate on the future of final-salary pensions has quickened in recent weeks, with plans by the government to change the way they are calculated.
As more and more schemes close, Pensions Minister Steve Webb said there were plans to link pension payments to the typically slower-growing Consumer Prices Index (CPI) measure of inflation instead of using the Retail Prices Index.
The proposals mean millions of people would be likely to see lower increases to their pensions in retirement, but it would give some more breathing space to schemes in deficit.
The PPF - the safety net for pension schemes - took 10 more schemes under its wing in June, resulting in 937 more people in the UK receiving compensation now or in the future.
There are 160 schemes in the PPF, with 47,266 people now receiving, or set to receive, compensation.
"Look at the accelerated decline of final-salary pension provision generally, and then throw long-term deficits into the mix, and the picture does not look so good," said Tom McPhail, of Hargreaves Lansdown.
However, he added that the state of the collective deficit or surplus did ebb and flow.