Cars catch fire near Buckingham Palace in London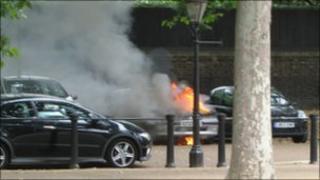 Smoke was seen billowing from several cars which caught alight a short distance from Buckingham Palace and St James's Palace.
Firefighters and police attended the blaze in The Mall, central London, at about 1015 BST.
One car caught fire and three others set alight as a result. Police closed the road to traffic and pedestrians but it was reopened at about 1145 BST.
London Fire Brigade said the fire was extinguished by 1103 BST.
Tyres melted
The Metropolitan Police Counter Terrorism Command said they had investigated the car fire and there was nothing untoward about the incident.
Inspector Mark Kelly said that, responding to the call, there was always the possibility it could have been a terror attack.
"We don't know whether it could be a terrorist device. But we deal with it the best we can for the safety of the public," he said.
Two fire engines and 10 firefighters attended the incident.
The cars were parked on the Horse Ride outside Marlborough House, which is across the road from Clarence House.
They were burnt white with their tyres melted, bonnets open and engines disintegrated.
'Nothing suspicious'
A spokeswoman at Clarence House, which is the official residence of the Prince of Wales and Duchess of Cornwall, said she was aware of the fire but that it was not affecting the property.
Mounted police joined officers on foot to clear hundreds of tourists away from the Mall and out of Green Park.
One policewoman shouted: "As quickly as possible, ladies and gents, for your own safety. There's a big fire which could go off any second."
Standing in front of three burned-out cars, station manager Rick Ogden, of the London Fire Brigade, said: "There is nothing suspicious at this stage.
"It was a standard car fire where one car has ignited the other two.
He said the owners of the vehicles had been identified and the fire could have started through overheating or from an electrical fault.