Burst water main in Reading floods road and gardens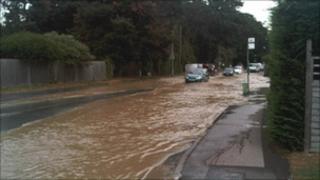 A burst water main has flooded a road in Reading and left gardens underwater.
Wilderness Road in Earley has been closed after water started gushing out of the main at about 0700 BST.
Thames Water engineers quickly shut off the supply and dug up the road but they have had to wait for the water to clear before repairing the damage.
A spokeswoman for the water firm said supplies have not been affected to homes and the flood water did not reach any properties.
A Thames Water spokeswoman said: "Fortunately we managed to stop the water... so there was no internal flooding.
"We have had to wait for the water to subside and we have been pumping it out but we don't know how long the repair is going to take.
"There could be many reasons why the main has burst, anything from ground movement, traffic movements to temperature changes."