David Cameron tells expenses watchdog: Get a grip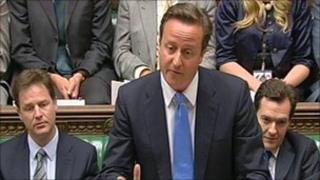 David Cameron has told the new MPs' expenses watchdog to "get a grip on what they are doing and do it fast".
The prime minister also said the Independent Parliamentary Standards Authority (Ipsa) must not be allowed to be "overly bureaucratic".
Ipsa is facing a backlash from some MPs claiming that recently introduced rules and procedures are overly complicated.
The revised expenses system was brought in after the revelations last year about MPs' uses of allowances.
Ipsa has sole responsibility for processing, validating and paying or rejecting MPs' claims and there have been complaints about late payments and a complicated computerised system.
'Undermining efforts'
At prime minister's questions, Mr Davies, MP for Monmouth, said: "As far as I'm aware, it's not standard practice in the public sector for workers to fund their offices and equipment out of their own pockets - and then to negotiate a bureaucratic obstacle course in order to get the money back if they're lucky.
"Could you tell us whether you think this is a good system for Members of Parliament or whether it's undermining efforts from MPs on all sides of the House."
His words were drowned out by loud cheers from backbenchers.
Mr Cameron said it seemed to be a "popular and well-placed question".
"I have to say - and I will answer you seriously, I think it is important - what we wanted to have and what is necessary is a properly transparent system, a system with proper rules and limits which the public would have confidence in," he added.
"But what we don't need is an overly bureaucratic and very costly system and I think all those in Ipsa need to get a grip on what they are doing and get a grip on it very fast."
'Discredited'
A committee of MPs agreed on Tuesday to sign off Ipsa's £6.46m budget for 2010-11.
This followed some tough questioning sessions and came with the proviso that the body should be "very strongly" urged to cut its running costs to £2m a year once its start-up period ends.
Following Mr Cameron's comments, an Ipsa spokesman said the watchdog was "introducing a new, transparent and radically different system of MPs' expenses, based on rules which were welcomed by all the main parties when they were announced earlier this year.
He added: "The old discredited system is gone and has been replaced by new rules, a new robust and auditable system for MPs to use when making claims, a process of verification and validation of each claim made and, for the first time in centuries, independent regulation.
"Even with these extended responsibilities, Ipsa's direct staff costs will be lower than the costs for the old House of Commons system."