Prince Harry sees specialist work of RAF Regiment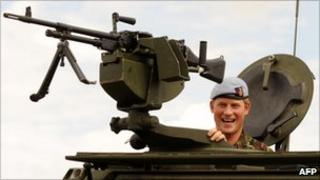 Prince Harry has been shown how the RAF Regiment protects UK forces against chemical attack.
It came as he visited RAF Honington in Suffolk, where he was shown a Fuchs armoured vehicle adapted to detect deadly gases on battlefields.
The prince was briefed on the capabilities of the vehicle by members of the Joint Chemical Biological Radiological Nuclear Regiment.
He also watched new recruits going through their physical training.
About 150 members of the RAF Regiment, whose main role is to guard air bases, are due to the return to Honington on Sunday following a six-month dour of duty at Kandahar Air Base in Afghanistan.
The prince also met servicemen's wives, and officially opened a new mess during his two-hour visit.
He is the base's honorary air commandant.