Police in day of action against metal theft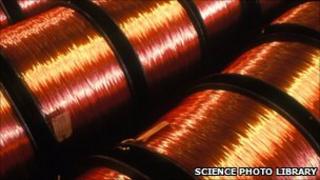 Police forces across England, Scotland and Wales are taking part in a co-ordinated day of action to tackle the growing problem of metal theft.
The move is in response to a sharp increase in the number of such thefts in the past six months, as the price of most metals has risen strongly.
Led by British Transport Police, forces have been raiding unlicensed scrapyards and targeting suspected metal thieves.
The cost of metal theft to UK firms is estimated at about £770m per year.
This figure comes from Paul Crowther, deputy chief constable of British Transport Police and national lead on metal theft for the Association of Chief Police Officers.
"On the railways we have seen significant delays and cancellations as a result of thieves cutting and taking signalling and power cables from the side of the track," said DCC Crowther.
"There have also been incidents around the country in which homes, businesses and even hospitals have suffered power cuts and surges as a result of criminals stealing copper from power stations."
Metal thieves have also been taking manhole covers, domestic gas pipes and lead flashing from homes and churches.
While police forces across the UK target metal theft on a regular basis, DCC Crowther said the aim of the day of action was "to send a clear message that metal theft is unacceptable and police and industry are working together to address the problem".
He added that police forces were working closely with the British Metal Recycling Association (BMRA), as the majority of metal thieves tried to sell their stolen metal on to scrap dealers.
BMRA director general Ian Hetherington said the organisation was working to ensure "police and the metal recycling industry can work jointly to identify stolen metals and stamp out illegal operators".
The 21 police forces taking part in the day of action are British Transport, Bedfordshire, City of London, Cleveland, Cumbria, Dorset, Durham, Dyfed-Powys, Fife, Humberside, Kent, Leicestershire, Lincolnshire, Metropolitan, North Yorkshire, Northumbria, South Yorkshire, Sussex, Thames Valley, Warwickshire and West Yorkshire.
Global metal prices are rising strongly as the world economy is continuing to recover, led by high demand from China and other fast-growing emerging economies.