Crime in England and Wales at 29-year low, survey shows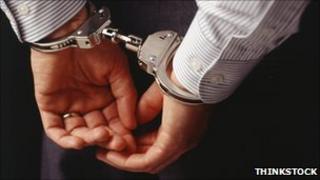 The number of crimes committed in England and Wales has fallen to its lowest level since records began in 1981, official figures have shown.
In 2009-10, crimes committed fell to 9.6 million - 9% below the previous year, indicating that the recession has not caused an increase in offences.
The latest British Crime Survey (BCS) said there had been a "notable" drop in theft, burglary and fraud.
Yet violent crimes fell only 1%, which it said was not a significant change.
Sexual offences recorded by the police in 2009-10 totalled 54,509, a 6% increase on the previous year.
However, it said this rise needed "to be interpreted with caution", because the Association of Chief Police Officers (Acpo) has been taking steps to enhance the recording of serious sexual offences.
Downing Street said the latest crime figures were "clearly down", but that they were "still too high".
"There are still 26,000 crimes against people in the country every day," said the prime minister's official spokesman said.
'Recognise challenge'
The BCS report measures the level of crime in England and Wales by asking people about crimes they have experienced in the past year.
As a result, its overall figure includes crimes which have not been reported to the police.
However, the number of crimes recorded by police forces across England and Wales also declined in 2009-10, down 8% to 4.3 million offences.
"The statistics released today reflect the efforts of our workforce in doing all they can to protect communities from harm," said Chief Constable Keith Bristow, head of crime at Acpo.
The latest crime figures come after a report for Police Review magazine said budget cuts in the police service in England and Wales could lead to 60,000 police officer and civilian posts being axed by 2015.
Chief Constable Keith Bristow said: "Like many sectors, policing will be expected to deliver more for less.
"We recognise the challenge and remain resolutely committed to protecting the public which we serve."
Campaign group Criminal Justice Alliance (CJA) said the latest crime figures were "a welcome sign that recent progress has been sustained, and that the recession has not yet led to the predicted rise in crime".
"However, it exposes the futility of the current prison-building programme, which will create thousands of unaffordable new prison places at a time when crime continues to fall," said CJA campaign director Jon Collins.
"The new government should take advantage of the falling crime rate to cancel planned new prisons and use the money saved to invest in services in the community that will sustain lower levels of crime."
While the number of crimes recorded by police forces across England and Wales declined by 8% in 2009/10, the amount that they solved also fell, down 10%.
Only 1.2 million of the 4.3 million crimes recorded were solved.
Burglaries, incidents of criminal damage and offences against vehicles were three main areas with high unsolved rates.
The BCS only covers England and Wales, with data reported separately in Scotland and Northern Ireland.
In Scotland, the equivalent of the BCS is the Scottish Crime and Justice Survey.
Its last report, for 2008/09, said the number of crimes experienced by the Scottish public totalled 1.04 million.
This compares with one million crimes in its previous survey for the year 2005/06, which it said was not a statistically significant change.
The most recent official data for crimes reported to the police in Scotland showed they fell 2% in 2008/09 from a year earlier.
Meanwhile, the number of reported crimes in Northern Ireland in 2009/10 declined 0.9% from 2008/09.
Figures published by the Ministry of Justice on Thursday show almost a quarter of men in England and Wales have a criminal conviction.
In 2006, 24% of men aged 18 to 52 had been convicted at least once in their life. The number does not include people convicted of the most minor offences or those who have been cautioned.