Saudi politician and poet Ghazi Algosaibi dies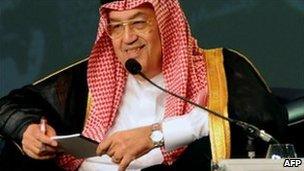 One of the best-known writers and public figures in Saudi Arabia, Ghazi Algosaibi, has died of cancer at the age of 70.
He had a long career in the Saudi government as well as writing a number of books, including novels and poems.
He also served as the Saudi ambassador to Britain and to Bahrain.
Correspondents say he was a leading liberal voice in Saudi Arabia, although his critics complained he was too closely linked to the royal family.
Mr Algosaibi was born in 1940 into a rich, trading family, in Hofuf in eastern Saudi Arabia.
He earned a law degree at the University of Cairo in 1961, a master's degree at the University of Southern California in 1964, and a doctorate of law at the University of London in 1970.
Despite his privileged background his poems revelled in images of a simpler, desert culture.
Mr Algosaibi's literary works also included novels about corruption at home, Arab alienation and essays analysing relations between Islam and the West.
Many of his books were banned in Saudi Arabia.
From 1992-2002 he was Saudi Arabia's ambassador to Britain, but he was removed from his post after publishing a poem in praise of a Palestinian female suicide bomber.
Back in Saudi Arabia, he became labour minister, a post he held until his death.
As labour minister, he pushed hard for Saudi women to have more job opportunities.
He also urged unemployed young Saudi men to take the jobs they had traditionally scorned and left for foreigners, driving his point home by going to serve hamburgers at a fast food restaurant in Jeddah.