Manchester United sign Hong Kong mobile deal with PCCW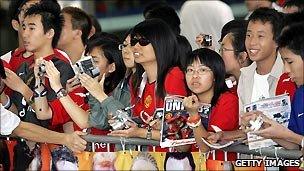 Manchester United has signed a deal with Hong Kong firm PCCW for it to become the telecoms and broadcast partner of the club in the region.
The club says it is the first such deal it has signed there, adding to its growing number of overseas deals.
it means PCCW's Now TV, Hong Kong's largest pay-TV provider, will for three years be the official broadcaster of football club channel MUTV.
The service from PCCW will also be available online and on mobile phone.
PCCW and Manchester United have also jointly developed a promotional microsite, in Chinese and English, for local Man Utd fans.
The club is looking to extend its number of sponsorship and partnership deals in different global geographic markets.
Earlier this year, the club saw off a mooted takeover bid by a group of businessmen dubbed the Red Knights.
Many fans, unhappy about the ownership of the club by the American Glazer family, have been running the green-and-gold campaign opposing their tenure.
However, manager Sir Alex Ferguson recently said that, while having "no problems" with the campaign, he did not want to see "United mired in so much controversy that it deflects our purpose of winning matches".
In May, the firm announced a cut in debt, from £543.3m a year previously to £520.9m for the January-to-March period.
Its quarterly financial results also showed net assets of £794.9m and a cash balance of £95.9m.
The Old Trafford club said that in the nine months to March, year-on-year revenues were up 13.5% from £193.3m to £219.3m.
In January, it was revealed that debts at the parent company of the club had increased to £716.5m.
Related Internet Links
The BBC is not responsible for the content of external sites.