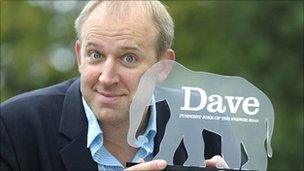 Comedian Tim Vine has won a prize for the funniest joke of this year's Edinburgh Fringe.
His winning one-liner was: "I've just been on a once-in-a-lifetime holiday. I'll tell you what, never again."
Readers of the BBC News website who think they can do better have been sending us their top gags.
Did you hear about the corduroy pillows? They're making headlines. Erik, Lancaster, California, USA
What do you call two robbers? A pair of knickers! Emily, Derby, UK
What do you call a deer with no eyes? No idea. What do you call a deer with no eyes and no legs? Still no idea. Helen McDermott, St Andrews, Scotland, UK
The only good thing about being the only boy out of six children, was I got to have a bedroom to myself; even my Mum and Dad had to share. Gary Hughes, Portsmouth, England, UK
I miss my ex-wife.... but my aim is getting better. Steve Holton, Austin, TX USA
I recently read a book titled '1000 places to visit before you die'. Although I couldn't help thinking: 'As opposed to when?' S Porter, Merseyside, UK
Did you hear about the pretentious giraffe? She's constantly looking down on people. Jim Mckeogh, Wynnewood, USA
Did you hear the one about the magic tractor? It was driving along a road and then turned into a field. Adam Williams, Willingham, UK
I think my parents hated me as a child - my bath toys were a radio and a toaster. Andrew Sprawson, Bristol, England, UK
The two most common elements in the universe are hydrogen and stupidity. Robert, Joburg, South Africa
I'm trying to get my book published by Random House, so I've been going door-to-door. Chris Fox, Chapel Hill, USA
Why did the chicken stop halfway across the road? Because he was eggs-hausted. Jack, aged 8, UK
Why was the squirrel angry? Someone pinched his nuts! Col Harvey, Harlow, Essex, UK
What's got eight legs and ticks? A clocktopus. Rowan Smith, Glasgow, Scotland, UK