Will you see the Pope?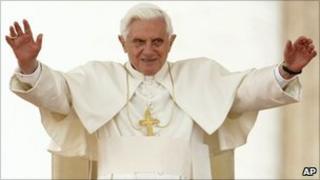 Pope Benedict XVI is visiting England and Scotland between 16 and 19 September in what will be the first papal visit to the UK since that of John Paul II in 1982.
Organisers are said to be doing everything they can "to ensure as many people as possible can be with the Pope safely, securely and comfortably".
However, events will not be open to the general public on the day and those wishing to attend must belong to a group from a Catholic parish.
Pope John Paul II's six-day tour drew huge crowds. Masses were held in cities including Cardiff, London, Liverpool, Manchester and Edinburgh.
BBC News would like to speak to you if you are planning to attend an event. We would like to hear from you too, if you saw Pope John Paul II in 1982. Please get in touch via the form below.
Thank you for sending your comments. You can follow the BBC News website's coverage of the visit here.