Wildlife team pin hopes on beaver trial breeding bid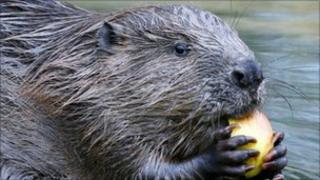 The team behind a trial to reintroduce beavers to the wild is playing cupid to a lone female whose previous partner died, it has been revealed.
A two-year-old male beaver was released 10 days ago into Knapdale Forest with environmentalists hoping romance would blossom.
The male, which was brought over from Norway, takes the number of resident wild beavers in Scotland to 12.
The trial is a five-year project to see how beavers cope in Scottish habitats.
Beavers are a native species to the UK and were a common sight before they were hunted to extinction in the 16th century.
Staff released the new male beaver on 14 September at the loch where the solitary female has settled, in the hope that they will eventually form a new breeding pair.
The female's previous partner died in June after failing to acclimatise to conditions in Knapdale Forest.
Before the release, the immediate area was marked with the male's scent to encourage the female to welcome the new arrival.
'Potentially breed'
The Scottish Beaver Trial project leader, Roisin Campbell-Palmer, said: "This male is at an age where he would naturally disperse from his family group in search of a breeding partner, so we are really hopeful that this arranged introduction will be the start of a very happy relationship.
"Over the next few weeks we would hope that there will be clear signs of acceptance as the pair get to know each other.
She added: "Although breeding won't take place this year, we hope they will build a lodge together which would be a good sign that they intend to remain together and potentially breed."
The Trial is a partnership project between the Royal Zoological Society of Scotland (RZSS), the Scottish Wildlife Trust and host partner Forestry Commission Scotland.