Chile miners rescue: Your reaction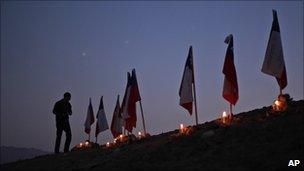 The operation to rescue 33 miners trapped underground for more than two months in northern Chile is now underway. Send us your views on the operation.
The rescue mission began on Tuesday shortly after 2315 local time (Wednesday 0215 GMT) using a custom-made capsule and winching system.
The men have been trapped about 700m (2,295ft) below ground since a tunnel collapse at the mine on 5 August.
Earlier, President Sebastian Pinera said he hoped what began as a possible tragedy, would end as a blessing.
Thank you for your comments. You can follow the mine rescue as it happened here.